Two Point Form Worksheets
In this page two point form worksheets we are going to see some practice questions in the form of a quiz. We have several ways to find the equation.We have shown four ways.A linear equation or an equation of the first degree in x and y represents a straight line.The equation of a straight line is satisfied by the co-ordinates of every point lying on the straight line and not by any other point outside the straight line. 

Two point form:
                    (y - y₁)/(y₂ - y₁) = (x - x₁)/(x₂ - x₁)
Here (x₁,y₁) and (x₂,y₂) are the points on the line.
If we have any two points on the line,we can use this formula to find the equation.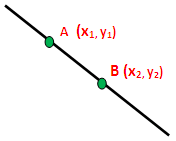 Question 1 :  two point form worksheets

Find the equation of the line which is passing through the points (1,4)  and (3,-2).