TIME AND WORK PROBLEMS

About "Time and work"

Time and work problems play a major role in quantitative aptitude test. There is no competitive exam without the questions from this topic. In this section, we are going to see, how time and work problems can be solved. 
Time and work problems - Points to remember
1. If a person can do a piece of work in 'm' days, he can do (1/m) part of the work in 1 day.
2. If the number of persons engaged to do a piece of work be increased (or decreased) in a certain ratio the time required to do the same work will be decreased (or increased) in the same ratio.
3. If X is twice as good a workman as Y, then X will take half the time taken by Y to do a certain piece of work.
4. Time and work are always in direct proportion.
5. If two taps or pipes P and Q take 'm' and 'n' hours respectively to fill a cistern or tank, then the two pipes together fill (1/m)+(1/n) part of the tank in one hour. Entire tank is filled in mn/(m+n) hours.

Time and work problems - LCM method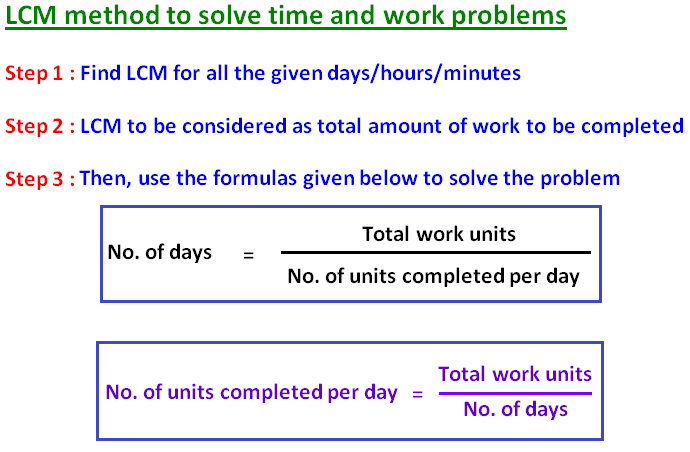 Time and work problems - Practice questions 
1. A and B can complete a work in 12 days.B and C can complete the same work in 18 days. C and A can complete in 24 days. How many days will take for A, B and C combined together to complete the same amount of work?